*TW This film depicts graphic gun violence.
Admittedly, I'm not a particular fan of westerns, though they give me a sense of nostalgia. They carry me back to Saturdays after Super Friends and Soul Train, where the background noise of a TV left on was a consonance of galloping horses, guns blaring, and twangy cadences. However, one exception might be Big Valley, a progressive show for its time, with strong female lead characters, Victoria Barkley (Barbara Stanwyck), the head of a family of ranch owners, and her daughter, Audra (Linda Evans), an independent equal to her brothers on the show.
Still, far and few between…until The Harder They Fall, Jeymes Samuel's history-infused neo-spaghetti western. There's something to say about the positive impact of representation; even, as an adult. Plus, pretty much anything featuring Regina King, especially in leather gloves and a bowler, has me at "howdy." And from the moment after the last epigraph: "These. People. Existed.," the Black Ingalls saying grace over a mighty fine looking hen, cornbread, with a bounty of fresh herbs and vegetables in the backdrop; and a horse's neigh, with the ominous bang on the door—we learn this ain't your grandma's "little house on the prairie." And the narrative is set in motion, not slowing until the resolution in the third act.    
The inclusion in this film is "on 10," as they say, which brings me right back to the epigraph. Each character woven into this highly stylized yarn is a real deal Black superhero or antihero, as it were: Rufus Buck (Idris Elba), Nat Love (Jonathan Majors), Gertrude "Trudy" Smith (Regina King), Cherokee Bill (LaKeith Stanfield), Bass Reeves (Delroy Lindo), Stagecoach Mary (Zazie Beetz), Bill Pickett (Edi Gathegi), Jim Beckwourth (RJ Cyler), Cathay "Cuffee" Williams (Danielle Deadwyler), and Wiley Escoe (Deon Cole), etc.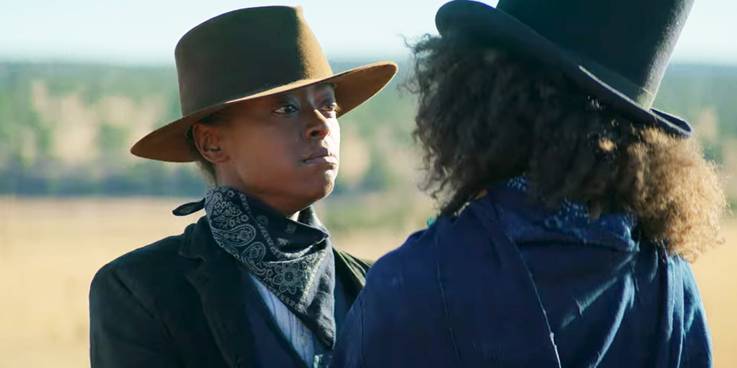 Like my old jam, Big Valley, The Harder They Fall has strong women leads—played by King and Beetz—situated in opposing gangs who actually take part in the most extended and consequential fight scene in the entire film, a noteworthy instance of equity and inclusion. Scene-stealer Cuffee is a fave and presumably represents LGBTQ+ individuals if my perception of a relationship or crush, at the least, between Cuffee and Stagecoach Mary is correct. This is underscored by their intimate exchange witnessed by Love later in the film, in which Mary asks as he stares a skosh too long, "what you looking at?"
Samuel turns this genre on its ear with a fresh sound, which is no surprise given his career as a singer-songwriter and music producer and his musical DNA…Seal is his older brother. He seasons a dialectal Western soundtrack and broadens its spectrum to include a multicultural, multiethnic, multigenre mixtape of Black voices. For instance, the Fisk Jubilee Singers, a Historically Black College and University (HBCU) choir, sang Samuel's original composition, "Do Unto Others." This choir, founded in 1871, introduced an essential musical tradition to America, the Negro Spiritual. He also included hip hop, blues, classical music, and reggae/dancehall cuts: Barrington Levy's "Better Than Gold," Fatoumata Diawara, and Lauryn Hill's "Black Woman" and Koffee's eponymous, "The Harder They Fall." 
The Harder They Fall is a history lesson—its narrative centered, likely, during Reconstruction, following the American Civil War; in other words, the enslavement of Black people ain't dead here. In one scene, it's subtly alluded to when Cherokee Bill quips, "You're going to let us get away Dred Scott free?" referencing Scott, who famously sued to win his and his wife's emancipation. The U.S. Supreme Court's ruling against them was considered one of the worst decisions recorded, even for that era.
I've read some critiques of this film, merely limiting it to an attempted copy of, most recently, Tarantino films. Of course…they all have identifiable tropes, right? I mean, it is a western. What elevates this film for me is Samuel's intentional decision to not use the "n-word.". Instead, the film highlights all the depth, complexity, foibles, goofiness, heart, and even malice of Black characters; without diminishing who they are, good, bad, or ugly, by a pejorative.
Though I loved the film, there are a few things I would've loved even more, e.g., Cuffee and Stagecoach Mary exchanging a "real" kiss; and, perhaps, a stronger admonishment for Beckwourth's homophobic behavior. I get it, though; there's always one, so I welcomed Beckwourth becoming the butt of his own joke at that moment.  However, I did appreciate the womanist, as defined by Alice Walker, sensibilities threaded throughout the film.  Black women were the true visionary leaders, heroes who saved the day, and strategists, as well as the last person standing in most cases. Even amidst their near-battle royale, Trudy and Stagecoach Mary held respect for each other's strength, both fighting to survive to continue leading their people.
Samuel has successfully hyped my interest in Westerns a bit, given the likelihood of a sequel. I'll be listening for the updated groove, possibly the spaghetti westerns' new voice…rimshots fading into a reggae swagger as the sunrises across some vast expanse of land. In the distance, you see a tiny town, and as the camera pulls back, the first glimpse of a gloved hand holding a bowler, and like I said, you'll have me at "howdy".