When did the kids start this "gay thing", anyway? A while ago, folks. Much longer than you might realize.
Since queer people existed thousands of years ago, it goes to figure they were around 50, 70, or 100 years ago. And the film industry was far from devoid of LGBTQ+ representation – in fact, it wasn't just a stereotype that gay people flocked to movies, music, and theatre. It was one place where they were just a tiny bit more welcome.
With Pride Month only a month away, let's take a proud look back at our forefathers, foremothers, and foreparents of queerness in the movie industry.
Here are 5 openly gay Hollywood stars you should know about.
1. William Haines
"The only real freedom we have left is the home. Only there can we express anything we want." 
Once listed as the top box-office attraction in the country, William Haines had a persona as a wisecracking, leading man. His fame boomed in the late 1920s and early 1930s with films like Navy Blues (1929) and Way Out West (1930), and Hollywood thought he was sure to be the next big thing.
After starting his film career, he met his partner Jimmie Shields, who remained his committed lover his entire life. Upon discovery of their relationship, Louis B. Mayer, then head of MGM, gave Haines an ultimatum: remain with Shields, or agree to a sham lavender marriage.
William Haines chose Jimmie Shields, didn't silence his own homosexuality, and was fired from MGM because of it.
He spent the rest of his life, a further 47 years, owning an interior design business with Shields which is still in operation today, called William Haines Designs. They had clients including Gloria Swanson, Carole Lombard, and another openly gay Hollywood figure, George Cukor.
Joan Crawford, a friend of the two, later said of Haines and Shields that they were "the happiest married couple in Hollywood.".
2. Tab Hunter
"Unless you're of a certain age, you may not know my name, but you can Google it – I was a pretty big movie star in the 1950s. Oh, and another thing: I was – am – gay."
Blond, clean-shaven, good-looking, and fit – Tab Hunter was the epitome of a 1950s heartthrob. Hunter starred in films such as The Girl He Left Behind (1956), Gunman's Walk (1958), and Damn Yankees (1958). He played boy-next-door types, marines, cowboys, and surfers in a myriad of films, and was the cover model on hundreds of magazines.
And that's precisely why the Hollywood scene, the studios he worked for, and his fans wanted to ignore the fact that he was gay.
Hunter kept his sexuality a secret for the majority of his career, having relationships in private and continuing a façade in public. His longest relationship was with producer Allan Glaser, which started in 1983 and ended with Hunter's death in 2018. The two were married in 2013.
Hunter came out publicly as gay in his 2005 memoir, confirming rumors that had been circulating since the height of his fame. Paramount Pictures is currently in development of a feature film about Hunter's life, with his husband, J.J. Abrams, and Zachary Quinto producing.
3. Patsy Kelly
"In 40-odd years in show business, some years I could do no wrong, and some years I could do nothing right. Show business. I owe it everything – it owes me nothing."
When talking about openly gay Hollywood stars, one has to mention the amazing Patsy Kelly.
Actress and comedienne, Kelly generally played an assertive, sassy sidekick to actress Thelma Todd, featured in comedy shorts such as Babes In The Goods (1934), Maid In Hollywood (1934), and Three Chumps Ahead (1934). She was known as the "Queen of Wisecracks".
Kelly openly disclosed her sexuality in the 1930s, the height of her popularity. She publicly referred to herself as a "dyke" and said in a magazine interview that she was dating fellow actress Wilma Cox and had no plans on marrying a man.
Due to her open candor in such an unaccepting time, many studios refused to hire her.
Kelly eventually left show business, moved to New York, and got a job as actress Tallulah Bankhead's secretary. The two also started a relationship.
Kelly made only a few more film and TV appearances before her death.
4. Dorothy Arzner
"I would like the [film] industry to be more aware of what they're doing to influence people for good and for bad. There's no doubt that we're affected by our environment"
I feel as if Dorothy Arzner's above quote should be on the front page of Incluvie – just me?
Arzner was a film director through the 1920s and 1930s, and when she retired in the 1940s, was the only female director working in Hollywood at the time. 
She directed a number of famous films, including Paramount Pictures' first talkie The Wild Party (1929), starring Clara Bow. This was also the film where Arzner developed the world's first boom mic, as Bow had trouble with the restricted movement that the other microphone entailed.
Keeping her private life private, but never hiding her sexual orientation, Arzner maintained a 40-year relationship with Marion Morgan, a dancer and choreographer who worked on Arzner's films. She also made a point to not dress like most women of the time, opting for more masculine suits.
Arzner was a driving force in starting the careers of the amazing Katharine Hepburn and the outstanding Lucille Ball.
5. Rock Hudson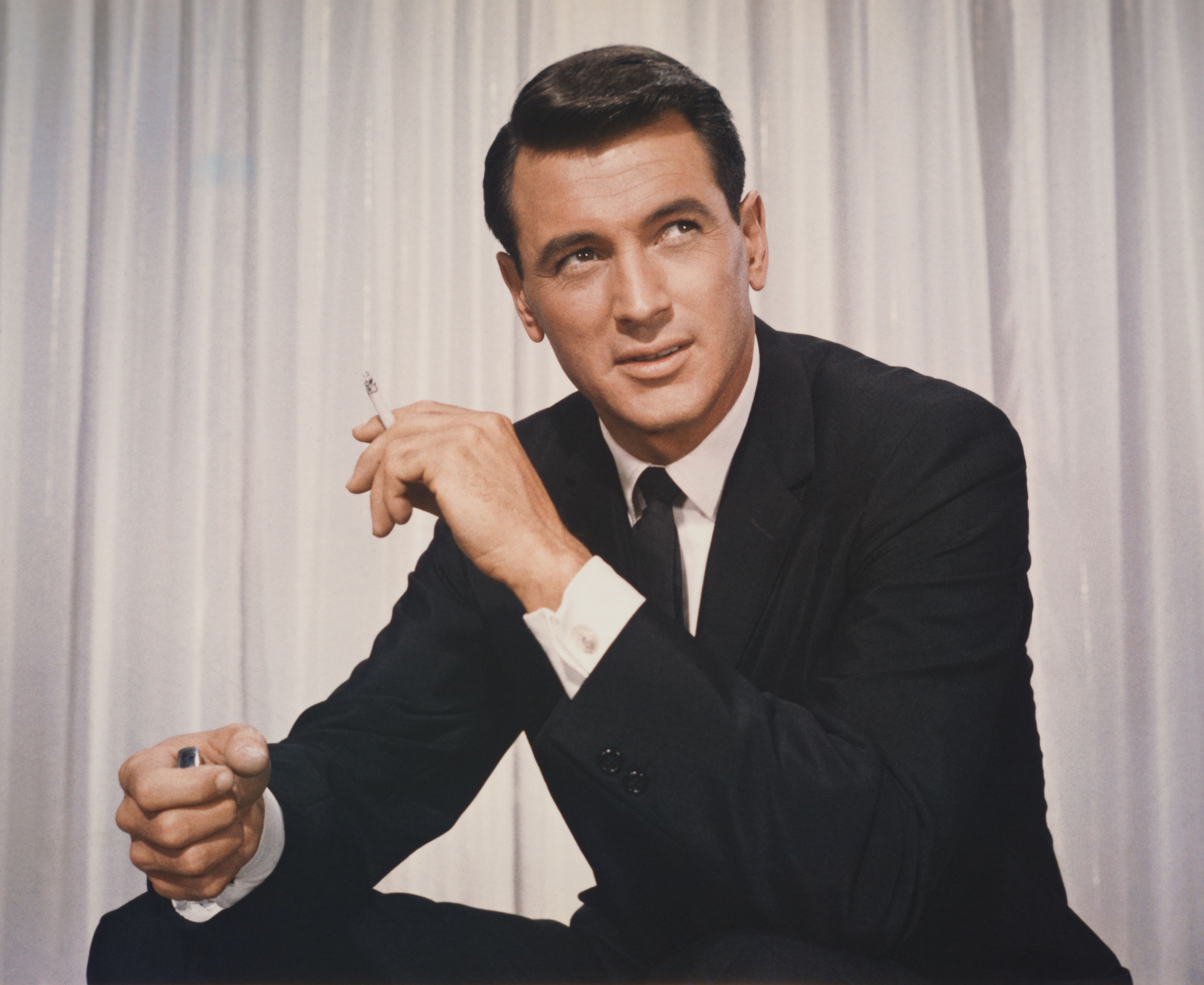 "Love? It's over-exaggerated. There are many forms of love, of course, like love for a child or a parent, love for dogs or plants, or fried chicken. I love loving, but being in love with someone has been too romanticized. People have come to expect much more of it than there really is."
Rock Hudson was one of the most prominent actors of his time, with a career spanning over three decades. He primarily played charming heartthrobs in romantic comedies such as Pillow Talk (1959) and Lover Come Back (1961). He was voted the most popular star of the time in 1959 due to his stunning capabilities as a leading man.
Hudson's agent Henry Wilson was aware of the star's sexual orientation and did his best to keep it discreet in a very judgemental time. Even going so far as to expose fellow openly gay Hollywood star Tab Hunter to distract the press from Hudson.
Rock Hudson was one of the first celebrities diagnosed with AIDS during the 1980s AIDS pandemic and is credited with helping bring the disease to the public eye. After his death and his coming out of his sexuality, AIDS visibility increased substantially, as did medical funding of the illness.
William M. Hoffman said that Hudson's death had a huge impact and told people that: "If Rock Hudson can have it, nice people can have it. It's just a disease, not a moral affliction."
Hudson himself admitted before his death that he took solace in that his "own misfortune has had some positive worth" because it was helping others.
Openly Gay Hollywood Stars Were Pioneers
These openly gay Hollywood figures risked so much by being honest about their sexuality: judgment, loss of employment, hate – even violence and death.
But they were pioneers for the film industry and life itself, showing the world that we exist in a time when the English language barely had words to describe us but "deviant" and "pervert". They paved the way for LGBTQ+ stars of the modern era, like Elliot Page, Zachary Quinto, and Kristen Stewart.
Disclaimer: Pioneering is a brave, wonderful act – but if you aren't in a safe space, don't feel obligated to out yourself. Stay safe.
This is a small snippet of each of these amazing people's stories, and I highly encourage you to research them, read their stories, and watch the movies they were involved in. Honor your community by looking into openly gay Hollywood history and giving your due to these figures that were never respected or recognized in their time.
If you'd like to read about a queer great from the Golden Age of Hollywood, check out Is 'Queen Christina' a Queer Film? And if you're interested in more Old Hollywood, take a look at Mixed Race Passing: An Actress's Life Mirrored in "Imitation of Life".